32 min./years in Greece
32 min. Digital video.
Comprised of 32 sequences in the year 2001 and my thirty-two years. I came to Greece chasing a dream, an image of a place, which was preserved in the eyes of a child of sixteen. Double her age, I returned. I opened my eyes as I was waking up out of the dream. The video is 32 of these glances and woven through the glances are the dreams of night, so daydream and night dream come together to make a new reality. Dreams are a way of dealing with the reality of the day, the hope for the future, the fear of the past. It is easier to talk about a dream than to talk about present time happenings and often
conversation is started about these happenings through the sharing of dreams. 32 ordinary moments of daily life. Of time that is fleeting, almost always gone. Of things that pull us together and push us apart. Of sounds that can resonate in our souls. 32 min. of nothing in my life. 32 min. of something already forgotten like last night's dreams. Often I tell a dream I saw to a friend or somebody in my family and often what might remain is this person's memory of my words.
>>>>>>>><<<<<<<<>>>>
Along with this video, I would like there to exist a performative aspect where the audience participates by sharing dreams they have had. These dreams would be videotaped and simultaneously projected next to the 32-minute piece. I envision the sounds of the first piece mixing with the audio of the audience in Bulgaria, creating almost the memory of an echo.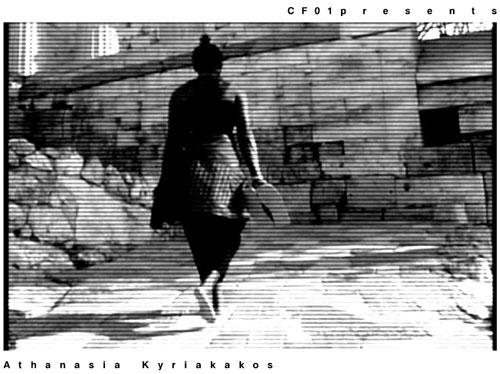 The Greek participation in CF01 exhibition is curated by Mediaterra, an event of Fournos, Athens, Greece.